DR. BANKIM JANI
Professor - Diagnostic Radiology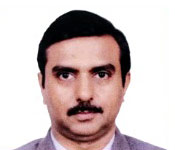 He has been working as a professor of Diagnostic Radiology which is a study of an arena of medicine that uses imaging exams and techniques to diagnose a patient.
He has a complete experience of 25 years of working in the medical colleges located in India, the USA, Georgia, Kenya, Kazakhstan, and Ukraine.
The students who have completed or are currently studying with him have given him a rating of 4.5 out of 5.