Diversity and inclusion have become a common trend. Every company that includes diversity and inclusion in its mission and practices is able to achieve a competitive business advantage. The effects of diversity support a friendly atmosphere and make the work environments adaptable which in return attracts top talent.
ISM EduTech supports everyone belonging to different races, ethnicities, genders, ages, religions, disabilities, and sexual orientations. These differences in education, personalities, skills, and experiences bring out the innovation required in a company. ​Diversity and inclusion are more than buzzwords in ISM EduTech, and is taken very seriously and understood in the workplace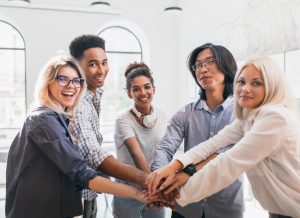 Diversity and inclusion best practices that  ISM EduTech follows
Fair treatment along with everyone
Equal  opportunity to everyone
Puts a lot of emphasis on teamwork & collaboration
Believes in innovation and creativity
Supports collaborative conflict resolution process
Representation of diversity at different levels of the Company
To build an environment for employees to thrive, diversity & inclusion in ISM EduTech have been highly prioritized.