April 14, 2022
Posted by:

Gaurav Saxena

Category:

Expert Insight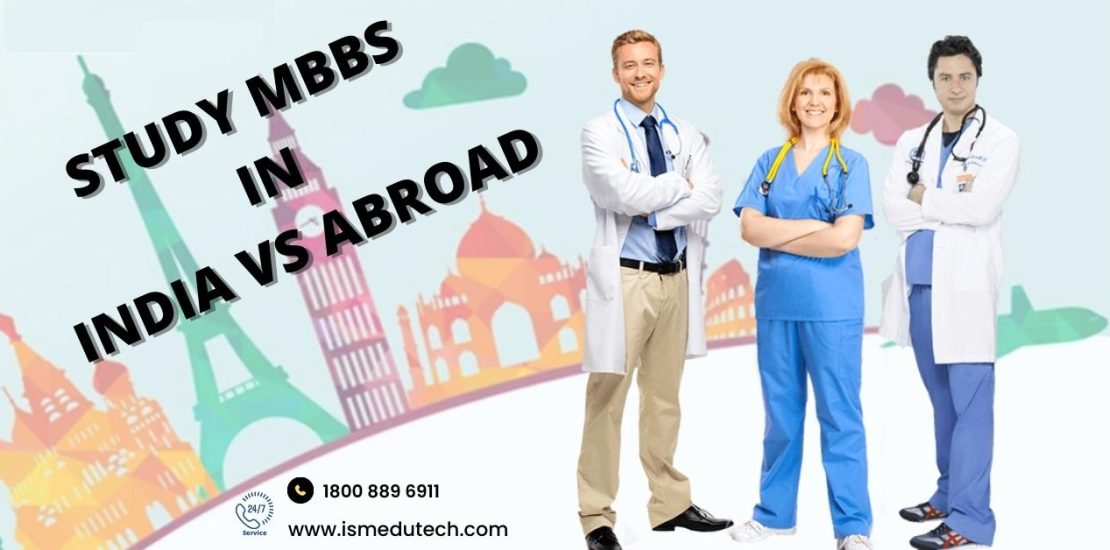 Which One Is Better MBBS In India or MBBS In Abroad?
MBBS In India VS MBBS In Abroad ? Do you aspire to be a doctor? But isn't it difficult? You do know what we are talking about? We are talking about the MBBS seats here in India. The population grows each year, and so does the competition. Do you have any idea how many students took the NEET last year?  A whopping number of 14 lakh students. But the number of seats available in medical colleges in India is around 84,000. Such low numbers.
We all have seen the movie 3 Idiots and heard this dialogue "Life is a race! Agar Tez Nai Doroge to koi Tumein Kuchal Ke Aage Nikal Jayega". Sorry for being a little melodramatic. But pondering about the hardship to get admission to MBBS colleges in India makes this movie dialogue true. Because of this challenging situation, students move abroad to attend medical colleges there.
It is witnessed to be the best choice for medical students. Aside from low tuition, government and top medical colleges, and worldwide employment prospects. Aspiring students can get admission to abroad medical colleges without donating. Unlike in India, international medical colleges have an adequate number of medical seats. International students are welcome to apply.
During the continuing pandemic, this profession has become much in demand. Everyone realized medical science is a field that is in a lot of demand amid the Covid-19 pandemic. Many students leave their dream of becoming a doctor just because they have to pay a huge amount of money to get admission and throughout 5 or 6-year medical courses. But the plus point of studying abroad is that the students can complete MBBS abroad in 20 to 25 lakh including or excluding the hotel and mess fees. There are various advantages of studying MBBS abroad and read on to find out more.
Advantages of Studying MBBS Abroad
The benefits of pursuing MBBS studies abroad are listed below. It is a known fact that the student experience is guaranteed to differ from one person to the next. But here we have taken the liberty of detailing some of the benefits of studying MBBS abroad.
Top Class Prestigious University
Medical universities abroad, like those in India, equip students with state-of-the-art facilities for a well-rounded academic experience. The institutions have world-class professors. Not only this, but they also provide globally recognized degrees to medical students. Those who want to make a name for themselves in this sector should consider studying abroad.  Universities and colleges abroad also provide students with maximum safety and protection. This allows them to feel at ease even when they are away from home.
Using the English Language
To attract foreign students, many medical colleges and universities throughout the world employ English as their major language of instruction and communication in medical schools. This, once again, serves as a benefit in drawing foreign and Indian students. Knowing the local language is always a plus point.
Better Return on Investment
When compared to private colleges in India, the cost of obtaining an MBBS abroad is comparably cheaper. Students are permitted to practice in the host nation after completing their course. This gives them the possibility to make a lot of money, resulting in a higher return on investment in the long term.
More Seats
Many candidates are unable to follow their desire of studying MBBS in India. The reason is the limited number of government medical seats in India and excessive tuition rates at private colleges. International institutions, on the other hand, have been able to tap into this student population simply by keeping tuition costs cheap, education standards high, and, above all, giving a greater number of seats than their government counterparts in India.
Financial Aid and Scholarships
Universities give scholarships and financial awards to students to encourage studying MBBS abroad. This in turn fosters a healthy flow of students coming into foreign countries to continue medical courses. Students can look through a list of scholarships available for MBBS education abroad.
There are several downsides to studying MBBS abroad, and the most common disadvantages are listed here.
Language Barrier
The first negative factor we identified was the language barrier. The student's understanding of local knowledge may be restricted. This is why it is critical to select a medical school properly.
Different Levels of Studies
It is one of the most significant issues that a student may confront when traveling abroad to study MBBS. That is why it is critical to comprehend the curriculum and conduct thorough research on it.
Clearing the FMGE/NEXT
The difficulties for students do not cease after they complete their MBBS education abroad. To qualify and practice in India, they must take and pass the FMGE/NEXT test.
Conclusion
MBBS In India VS MBBS In Abroad? Many medical students want to become doctors. They also dream to get MBBS admission to the top Government Medical Colleges. However, the reality of the screenplay isn't as straightforward as it's easy to get MBBS admission into Government Colleges. In these instances, the only alternative for Indian students in MBBS abroad. It is the only method by which you can realize your dream that you want to be a doctor.
What are you waiting for?
Share your contact information and sign up to take part in MBBS Abroad Admissions to Summer Intake 2022 and take one step closer to your medical goals! Students who have questions about the MBBS course can call us at 18008896911 or send an email to our email address at info@ismedutech.com to connect with us and take one step closer to your goals in the medical!
Also, Read This…
Want to send your child abroad, here's what you should do
Prepare for a medical internship. Here's how
Medical Internships: The Gateway to a Bright Future